History
The foundation for the collection began in 1933, in Edmonton, Alberta, when Dr. E. Silver Keeping (nee Dowding) was appointed to establish a diagnostic service for human fungus diseases, the first such service in the British Commonwealth. Through her work with the diagnostic service and through surveys of Alberta fungi, Dr. Keeping amassed a collection of several hundred interesting fungi.
Dr. J.W. Carmichael took over the diagnostic service in 1954 and added greatly to the collection. In 1960, the U. of A. Mold Herbarium & Culture Collection was formally established. During the next decade, Dr. Carmichael developed innovative techniques for storing and preserving fungi. His technique for preparing dried colonies of molds, described in 1963, is still in use today. A significant accomplishment was lead authorship of the widely used book Genera of Hyphomycetes in 1980. He retired in 1983 and moved permanently to his beloved home in Fanny Bay, Vancouver Island B.C. where he was active in the community. Sadly, Dr. Carmichael passed away in summer 2011 shortly before publication of a mammoth new edition of The Genera of Hyphomycetes created by new authors.
Prof.
Lynne Sigler
began working with Dr. Carmichael in 1969 and later assumed the responsibilities of Curator, guiding the UAMH through such milestones as the development of databases for the Collection data, Dr. Carmichael's retirement, a modification of the Collection's name and the physical transfer, in 1987, to the University of Alberta's Devonian Botanic Garden.
Dr.
Connie Fe C. Gibas
completed her Ph.D. University of Alberta Biological Sciences and began working at the UAMH in 2005. She took on curatorial responsibilities with the retirement of Sigler in June 2013.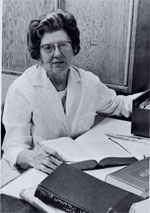 Dr. E.S. Keeping ca. 1967
Dr. J.W. Carmichael ca. 1968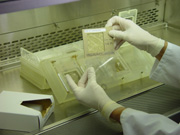 Dried mold colonies - the UAMH uses a unique method of preparing dried colonies devised by Dr. Carmichael.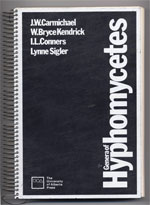 First edition of The Hyphomycetes