Preservation and Safe Deposit
Preservation Service
We can prepare ampoules of freeze dried material for you.
The material can be chosen from UAMH holdings, supplied by the user or located by UAMH.

This service is available for strains that sporulate and can be freeze dried.
We can also prepare cryovials for storage in liquid nitrogen or water. Contact us to discuss these options.
See Price List
See instructions for sending material to us.
See instructions for reconstituting freeze dried cultures.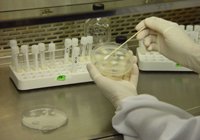 Preparing a stock culture suspension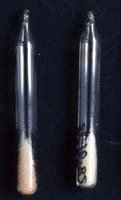 Freeze dried cultures can be stored for many years
Confidential Safe Deposit
We offer long term storage of valuable isolates in confidential safe deposit.
This service is available for isolates that can be preserved by freeze drying and/or by freezing inliquid nitrogen.
The strains are accessible only to the depositor or authorized designate.
A deposit fee and yearly charges apply. See price list below.
Contact us to make arrangements and to complete the forms.