Consulting and Advisory
We provide help to academic, medical and industrial researchers whose projects involve the use of fungi. Such assistance includes expert advice on selecting appropriate cultures, providing information on fungal biology or taxonomy, health risks of fungal exposure, risks of handling cultures, procedures for acquiring and importing cultures (permits, transport regulations), advising on methods for propagation and sporulation or for isolation of fungi from various substrata, dealing with problems of contamination and hygiene, etc. Depending upon the nature of the assistance required, charges may apply.
Consult us about problems related to:
Contamination & Hygiene: checking procedures to determine the problem and recommend solutions when mold contamination occurs in areas such as industrial processes, cell-lines or clean rooms.
Pathogenic or toxic fungi: identification of pathogenic fungi, advising on possible hazards of working with or shipping fungus cultures.
Biodeterioration: isolating and identifying fungi from natural substrates or deteriorated or manufactured goods.
Contract Research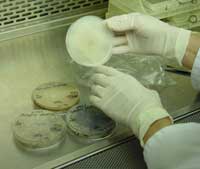 Contact us
to discuss your needs. We offer expertise for design and implementation of research projects; use of specialized facilities for handling fungi; access to a large library of reprints, monographs and books.